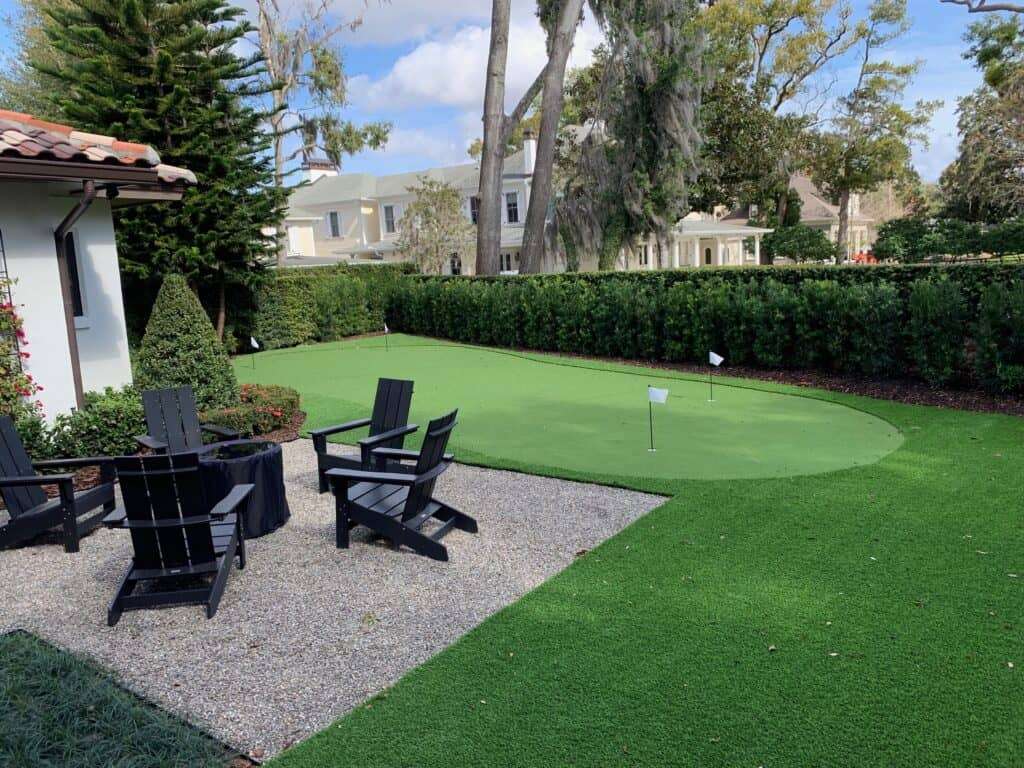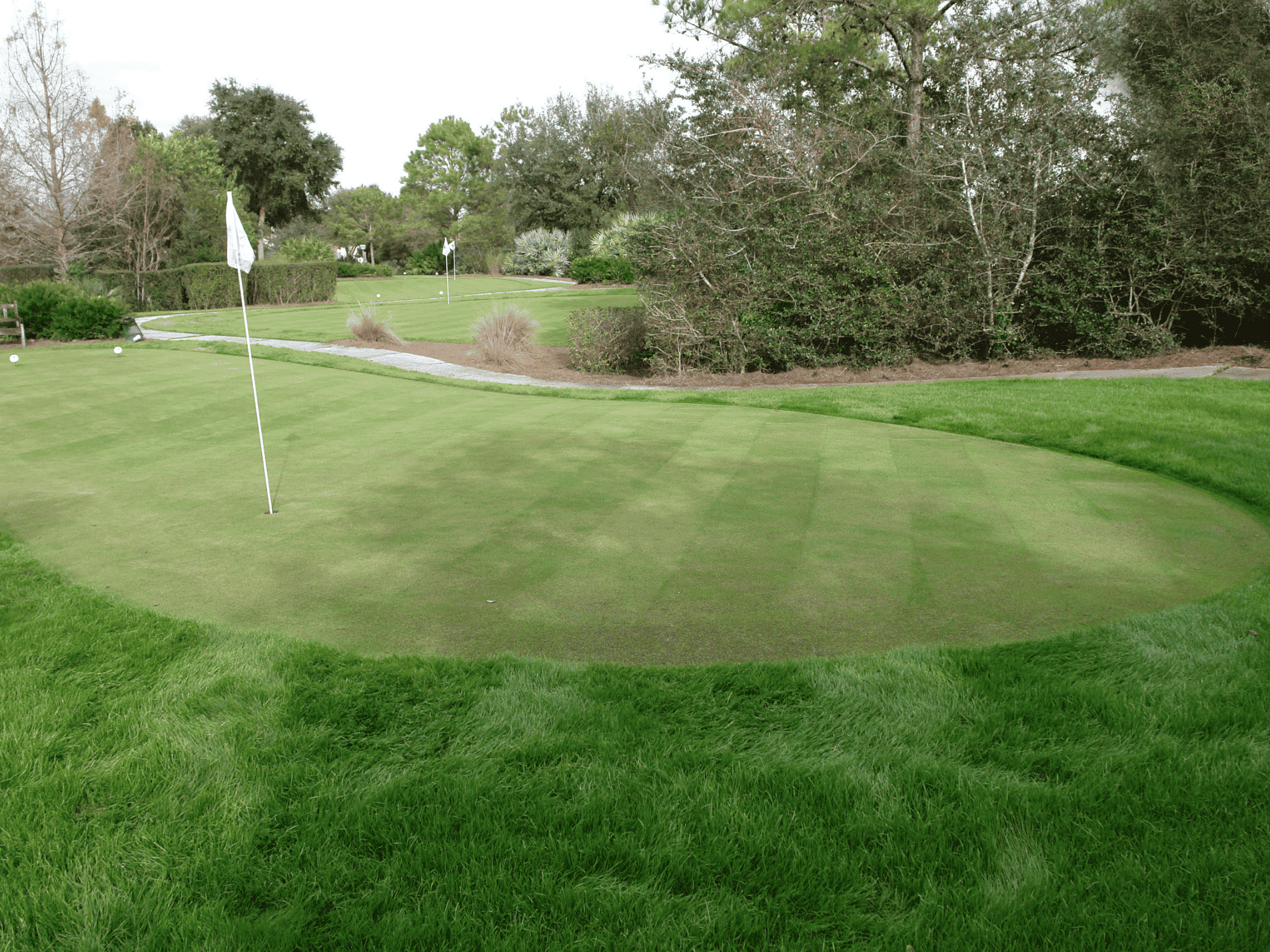 Golfers are always looking for ways to improve their game, and the putting green is where it all starts. Having a backyard putting green is a great way to work on your short game from the comfort of your home.
In addition to being a way to practice, it's also an amazing investment. It raises property value and saves time and money by practicing golf at home instead of a golf course. Plus, it's a great way to unwind after a long day or entertain guests at your next social gathering.
When it comes to choosing between an artificial grass or natural grass putting green, there are a few important factors to consider. In this guide, we will discuss the pros and cons of each option, as well as some tips on how to choose the right one for your needs.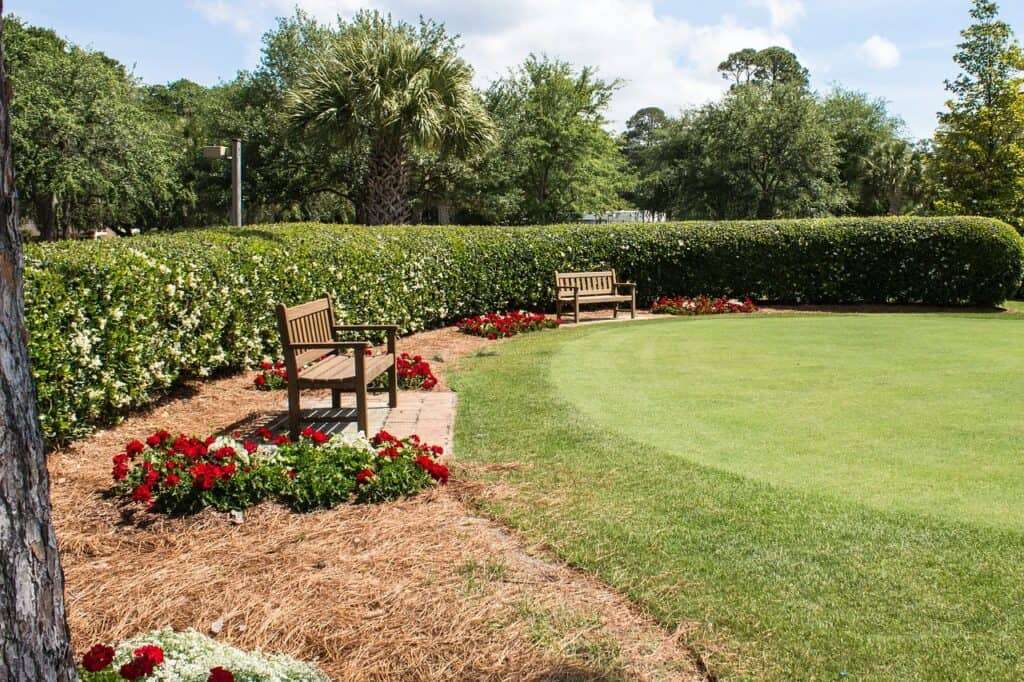 1. Maintenance
One of the biggest differences between artificial grass and real grass putting greens is the maintenance required.
Real Grass
If you choose a natural putting green you will need to:
Seed or sod and wait for the grass to grow
Mow, weed, edge, water, and fertilize the grass consistently. Pennington suggests for a backyard green that you mow 4 to 6 times a week and fertilize 4 times a year.
Keep pets from urinating on the grass to avoid patchiness
Monitor use of green to avoid damage to the flat surface from furniture, toys, children, and pets.
Worry about mud and wet surfaces after rain
Prepare for colder months when grass is susceptible to dying
Artificial Grass
If you choose artificial turf:
No waiting on grass to grow
Occasional rework or addition of infill
You can easily remove or rinse away pet accidents
Any furniture or play from kids and pets will not damage the turf
Excellent drainage following a rainstorm
Will look great year-round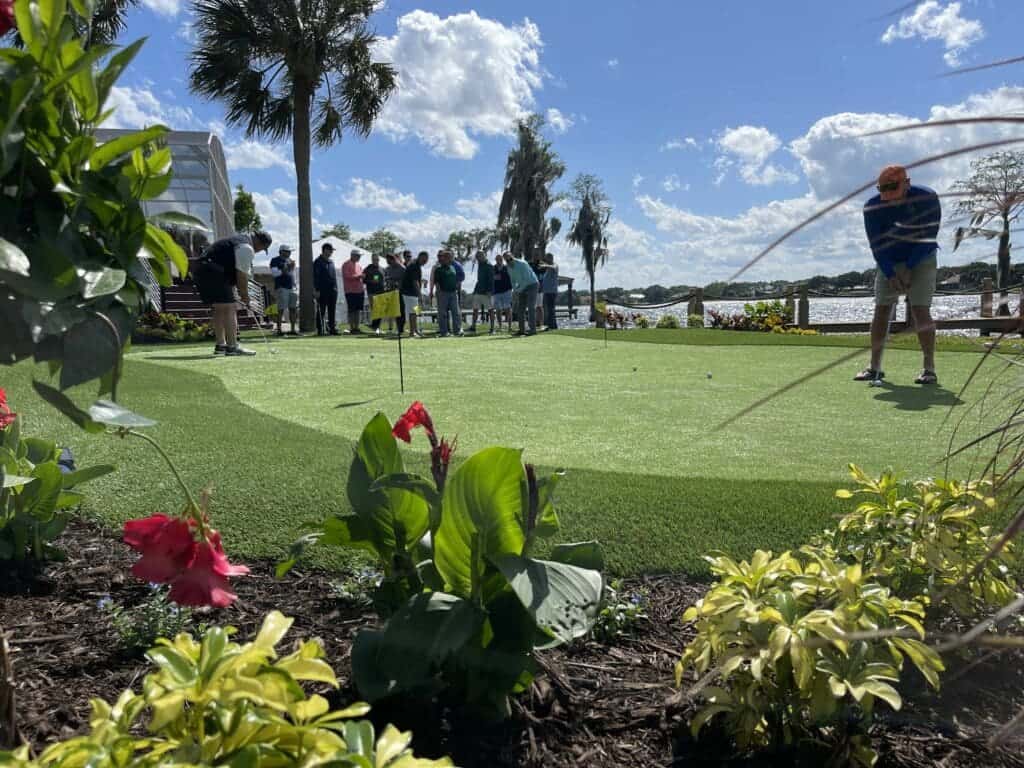 2. Performance
Another factor to consider is the performance of the two options.
Real Grass
Real grass putting greens can offer more variability and challenge, with natural undulations and slopes depending on the terrain. However, this can also make it more difficult to maintain a consistent putting surface.
A real grass putting green also allows you to change the holes, so you can have a new challenge whenever you want.
Maintaining a real grass putting green requires effort. However, it will more closely resemble the appearance and texture of a golf course green.
Artificial Grass
Synthetic turf putting greens are known for being consistent and low-maintenance, but they often lack the natural slope and contours of a real grass green. However, you can add slopes, sand traps, roughs, and obstacles with no problem.
The cups are mostly permanent with an artificial green but will free you of the maintenance that comes with moving the holes on natural grass.
While it is hard to compete with a real grass green, artificial grass can mimic the feel and bounce that you'd expect at the golf course when paired with the appropriate product and infill.
The performance of your putting green depends on how you want to use it. If you want to install a putting green for friends and family to use for fun, an easy and durable artificial green would be best. If you are an avid golfer looking to practice reading greens and putting more difficult putts, a natural grass green might suit you better.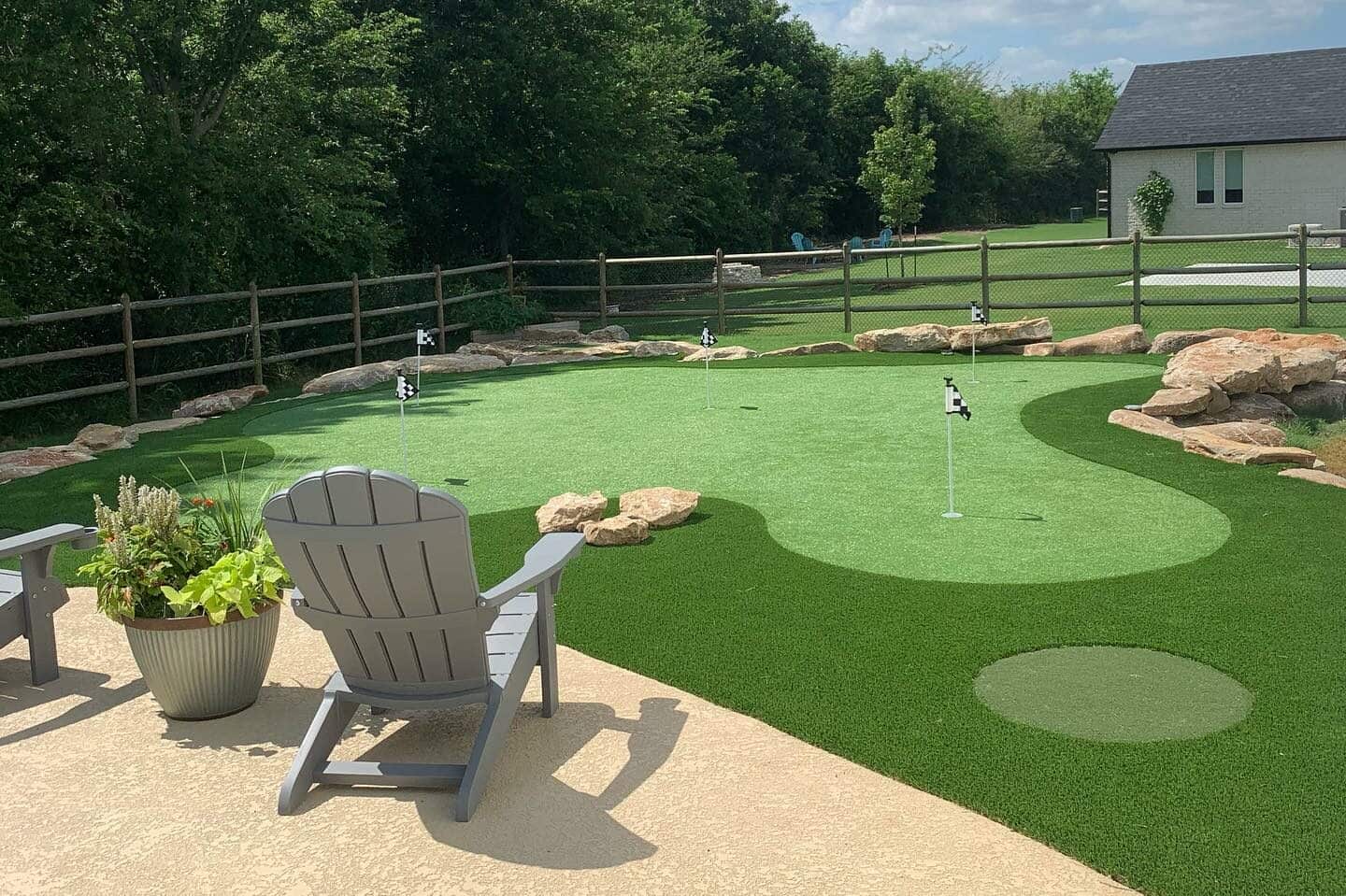 3. Durability
Both synthetic grass and real grass putting greens can be very durable but in different ways.
Real Grass
Natural grass putting greens may be more prone to damage, from putter divots or areas with heavy foot traffic. However, real grass can also regenerate and repair itself naturally, making it a good option for those who are willing to put in the work to maintain it. But, these areas will never return to their former perfection. This is why golf courses have professionals to maintain the greens or opt to completely replant during the off-season.
Artificial Grass
Artificial grass is made to be resistant to wear and tear and can last up to 15 years with proper maintenance. Turf is manufactured from a durable and resilient polypropylene or nylon blend. This means it was meant to withstand golfers, kids, pets, and weather.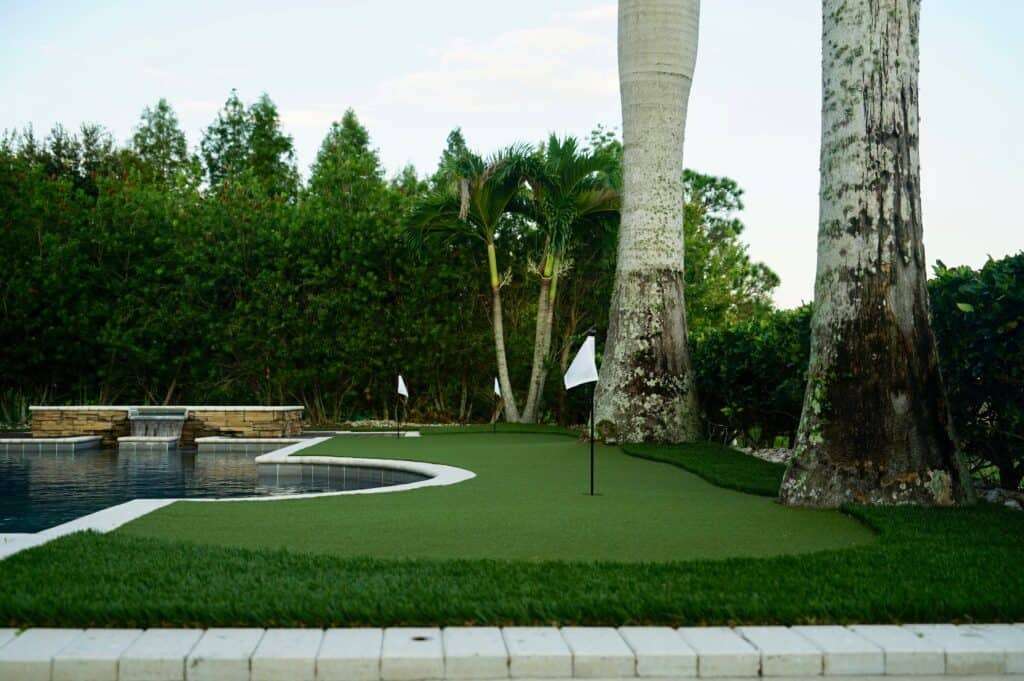 4. Location Flexibility
The option to place your putting green anywhere – whether that be on a roof, in a garage, or in the middle of your pool – makes artificial turf the winner here.
Real Grass
Natural grass is fully dependent on the environment for sunlight, water, and soil for its ability to thrive. In this case, a real grass putting green cannot survive in areas without these factors. This restriction limits the number of areas where a green can be installed. Consequently, you can really only use a natural grass putting green when the weather allows.
Artificial Grass
In comparison, fake grass can be installed virtually anywhere. It requires no soil or sun to look its best. You can install an artificial turf putting green in endless locations. Plus, if installed under a covered area, you can play in any weather condition.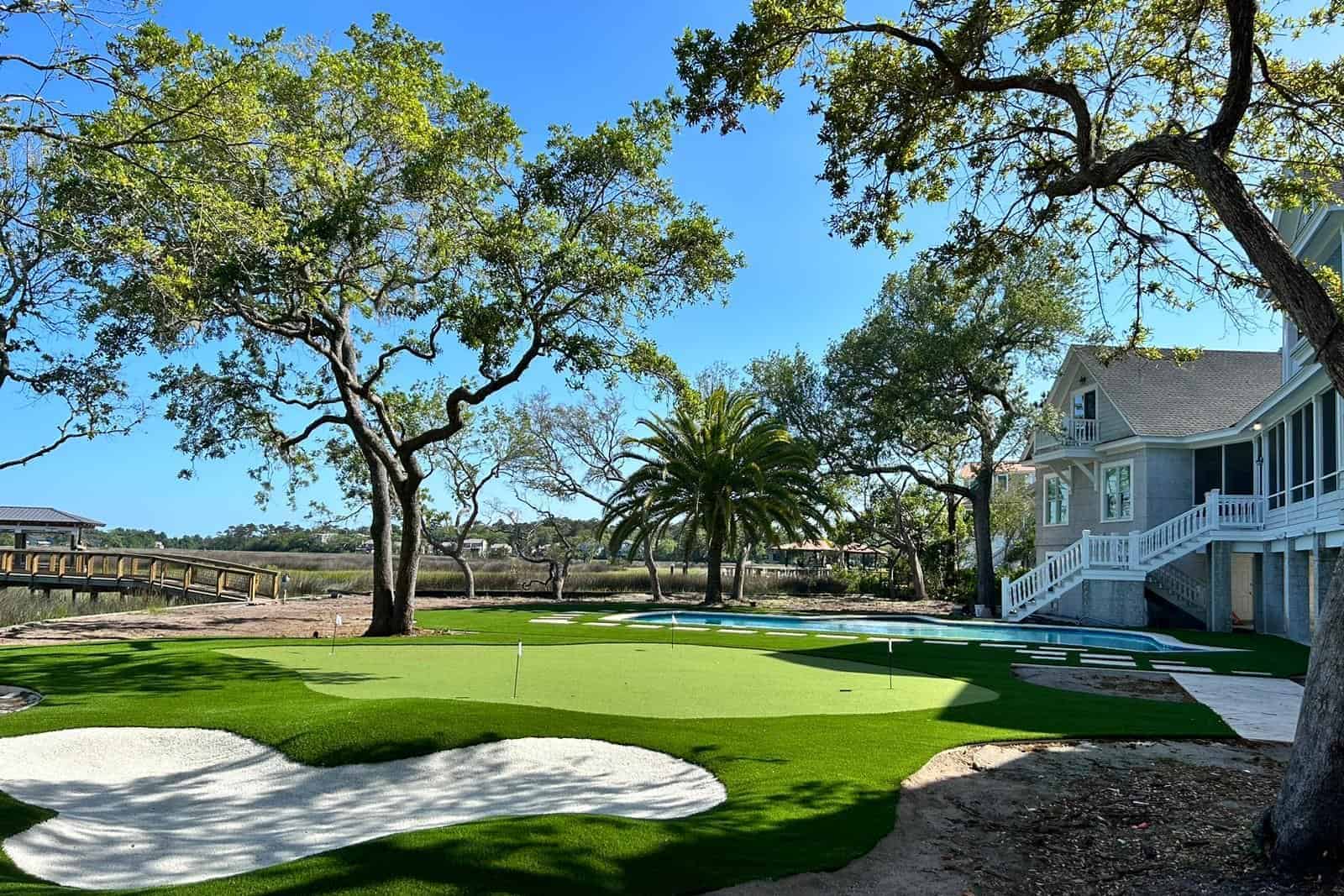 5. Cost
Lastly, cost is an important consideration to make when choosing between artificial grass and real grass putting greens.
A few factors to consider that will influence the cost:
Your geographic location
The product you choose
What company you hire for the job
Prep work needed
Complexity of design
Sand traps or any additional holes
Whether you decide on an artificial turf green or a natural grass green, it is highly recommended to use a professional installer.
Real Grass
Real grass is less expensive upfront but requires ongoing maintenance and may need to be replaced more frequently.
Artificial Grass
Artificial grass is generally more expensive upfront but requires less ongoing maintenance and has a longer lifespan.
Installing an artificial turf putting green in your backyard could cost between $11-$35 per square foot. The price varies on if you install just a putting green, or if you replace the entire yard as well.
Depending on your budget and long-term goals, either option can be a good choice.
Ultimately, the decision between artificial grass vs. natural grass putting greens will depend on your personal preferences, budget, and goals. If you are looking for a low-maintenance, consistent putting surface, artificial grass can be a great option. If you value natural aesthetics and are willing to put in the work to maintain it, real grass can offer a unique experience. Whichever option you choose, the most important thing is to get out there and practice your putting – after all, that's where the real improvement happens.
Watch the video below to hear from ProGreen customers on their decision to get an artificial turf putting green in their yard.
---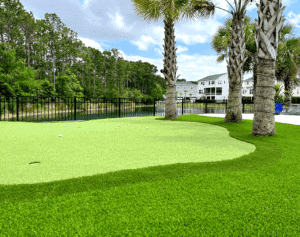 Questions about artificial turf putting greens? Let us help!