Four Questions to Ask Before Choosing an Artificial Turf Installer
The benefits of switching your natural lawn to artificial grass are well known. According to your best artificial turf installer the following are reasons:
creates a beautiful low maintenance space
saves water
reduces bugs
eliminates typical landscaping costs
Even better, the artificial products being made today are more realistic than ever. Today, there are different colors, lengths, textures, and styles that can be installed at your home.
The most difficult part of the artificial grass installation process is choosing which company to go with. There are plenty of options out there, but how do you know who you can trust? If you're going to make this investment, you will want to get the best product and installation possible. You can avoid a lot of headaches by asking these four simple questions, and paying close attention to the responses.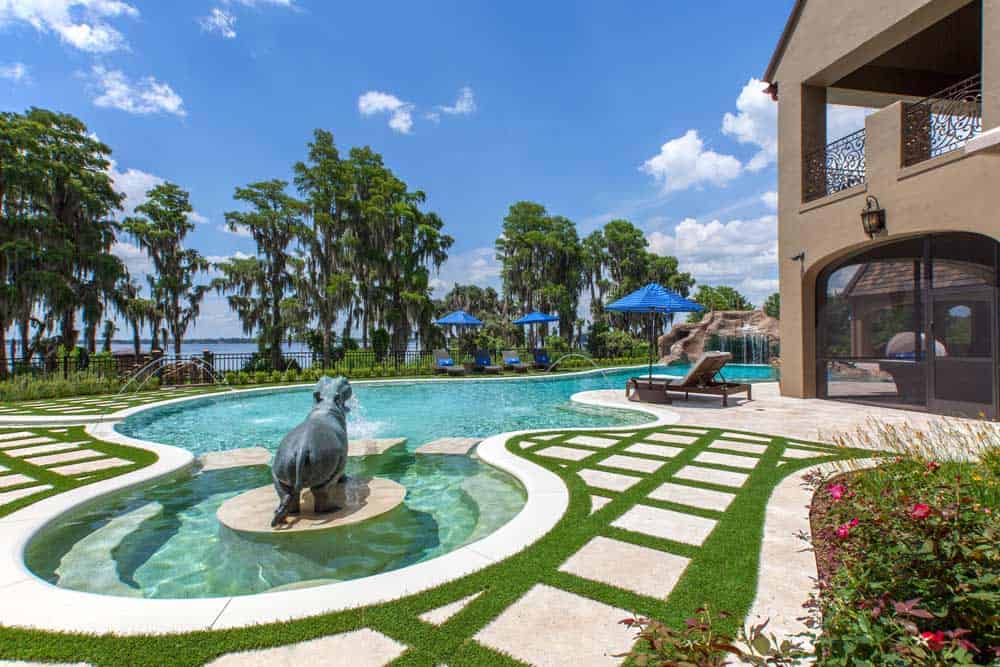 1. Where is your turf made?
This is the most important question to ask your prospective turf installer. If the turf company can't answer this question immediately and with confidence, this should raise a red flag. Most foreign manufacturers aren't held to the same production standards as American manufacturers. They are more prone to utilizing cheap labor, and may even use heavy metals (like lead) in their products to create certain product attributes at a lesser cost.
Although these less expensive products may look great at first, you'll find out they don't stand the test of time. Fading from exposure to sun and shedding are common issues with imported turf. What's worse: you won't be able to get these problems fixed. When these issues arise, you'll have a very difficult time tracking down the manufacturer and getting them to honor their warranty. In some cases, you will simply never reach the right person.
Read more in our post "Why is American Made Artificial Turf Better?".
2. How long have you been in business?
Artificial grass installation is a rather new line of business in the home improvement industry. Because of the recent boom in popularity, there are a lot of "fly by night" companies that have popped up to capitalize on the demand. You might find out your installer is in this category too late, which typically results in a very unprofessional installation job.
Many of these businesses simply won't last more than a few years due to the complicated nature of turf installation projects. It only takes a few projects that need 're-doing' for these business to run out of resources. These businesses, more often than not, use cheap overseas turf to minimize their costs, which spells doom for them in the long run because of the quality issues outlined in point 1.
Always ask, "How long have you been in business?" and do you your own investigating. You want to make sure you're not one of their "firsts".
3. Does your turf have a hole-punched backing or permeable backing?
Many artificial turf installer companies claim they have a fully permeable and premium drainage product, but they're just talking about standard hole-punched backing turf. This style of turf has been around for over 40 years. It's nothing special.
Here's the issue with hole punched backing: it simply doesn't drain as well as a fully permeable backing. This isn't as big of a deal for general landscape applications, as hole punched backings can drain regular rainfall just fine. However, in pet applications, you don't want to risk urine pooling and not being able to find the drainage holes. If the urine sits too long on the turf backing, the odor can absorb into the backing and become very difficult to get rid of.
ProGreen was the first to manufacture a 100% permeable turf backing that doesn't need punched holes, called ProFlow technology. This backing drains 4x more efficiently than hole-punched alternatives, eliminating much of the risk of urine odors becoming a problem.
4. What is your warranty?
A little known tip about warranties: if it sounds too good to be true, it probably is. In the case of artificial grass, if an installer tells you that the warranty is anything over 15 years, you should approach with caution. Ask yourself: "how can this company realistically provide a warranty this great?". After all, a simple Google search will tell you the average lifespan of artificial grass is up to 20 years. Lifetime warranties for products that aren't meant to last a lifetime don't make sense, logically. Read the fine print – it's likely that these warranties are filled with exceptions that will leave you high and dry.
A standard artificial grass installation warranty from a reputable artificial turf installer will be anything from 8 years to 15 years depending on the type of product, location, and installer. The benefit of working with ProGreen is that we are the manufacturer of the turf. As such, when you work with a ProGreen dealer, you know exactly who to call with questions about warranties. Hint hint: you're in the right place!
ProGreen: Giving Artificial Grass a Good Name
There it is! The four questions to ask before choosing an artificial grass installation company. We hope that this enlightened many of you and informed you of the pitfalls to look out for in this "Wild West" of an industry. We would like artificial grass installation industry to be viewed positively. To do this, we need to address the common issues we see with quality. Contact us today for a free estimate.